Codies Weekly Update 12-09-14
This Week's Big News
Hey everyone, Luke here, filling in for Lee while he plays some game called Destiny.
Obligatory weather update: Cloudy.
Formula 1
F1 2014 has finally hit Steam! Yep, that's right, you can now pre-purchase the game on PC and receive F1 Race Stars and 4 DLC packs for free.
The 2014 Championship title continues to heat up after Italy and we cannot wait until Singapore. Keep an eye on our usual channels for an F1 2014 Hot lap featuring Lotus F1 Team's Romain Grosjean.
One more thing… who are you cheering on, Lewis, or Rosberg? Let us know on our F1 Twitter and Facebook channels!
DiRT
Last weekend saw the FIA World Rallycross Championship head to Loheac – Petter Solberg took home the victory with our friend David Binks finishing in 21st. You can read his reaction to the race over on his official Facebook page.
Congratulations to @Petter_Solberg – winner of #LoheacRX!!! #WorldRX pic.twitter.com/O85nGfmadS

— FIA World Rallycross (@RallycrossRX) September 7, 2014
And a big congratulations to @SlideitFlyit for winning our competition with Albatec Racing and Smuggling Duds. The prizes are in the post!
GRID
Thundra takes screenshot of the week with his awesome shot of the beautiful Koenigsegg Agera R in GRID Autosport. Cheers Thundra!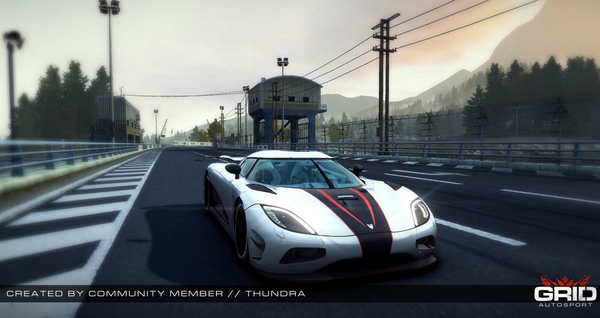 Tweet of the Week
Have you platinum'ed GRID Autosport? @LetsgoMetsgo has, and that's why his tweet's Tweet of the Week! Nice work.
Yes. Yes!!! Grid Auto sport Platinum!!! @gridgame What a grind! Great racing game. pic.twitter.com/hPQtJ62APM — Ray The 1st Baseman (@LetsgoMetsgo) September 11, 2014
Video of the Week
This week's video of the week goes to the guys over at Apex Online Racing for their unbelievable league race at Silverstone. We won't say anymore, but if you like incredible wheel-to-wheel racing – watch this!
And that's all for this week folks! Thanks for reading.