DiRT 4 Road Book – 06/12/17
Hello, hello, hellooooooo DiRT fans! It's been a while, hasn't it? We've had a crazy summer – after DiRT 4 dropped, Micro Machines World Series did – and then after that, F1 2017 arrived, we announced (and ran) the inaugural F1 Esports World Championship, and THEN we announced ONRUSH! So as you can imagine, it's been ridiculously busy at Codemasters HQ these past few months.
However, now it's December and things have quietened down, we've been able to knuckle down and get DiRT 4's Clubs update polished and ready to push – and we're delighted to say that's available for you all to download today! We're so sorry about how long it's taken, as it's fair to say we had a few hurdles to jump while we were getting things ready – but we're so pleased with the end functionality and possibilities it presents, and we hope you are too.
Aside from that, it's been hard for us to be so quiet of late, as there are lots of things bubbling under the surface here – but there's been a lot of shifting goalposts and sign-off requirements stopping us from going forth about discussing what they are! So, in the interests of not over-promising and under-delivering, we've been tight-lipped about what we've got up our sleeves next. We've been listening to you guys closely about what you want, what you don't want, what you'd change, and how you'd change it – and there's so much work going on behind the scenes to see what we can do… But we'll talk about that more in the near future, and where that work might fit. For now, we have a brand new and incredibly cool feature we want to talk to you about!
The Clubs Update is here!
CLUBS IS HERE! IT'S FINALLY HERE! And my my, is it cool. Not only is all the good stuff from DiRT Rally's leagues available (and we've transferred DiRT Rally's leagues over to DiRT 4's Clubs too, so you can pick up where you left off), but there's more fun to be had with some additional Club goodies. It's been a real team effort from our Racenet gang to get everything working slickly – especially when considering the technological complexities of integrating Your Stage into the system – so we hope you enjoy the extended competitive possibilities now at your fingertips.
There are three wonderfully cool new things that we've brought to Clubs this time round – so as you might expect, let us run you through them:
1/ Clubs are now multiplatform
As with our Community event leaderboards, we've expanded our multiplatform functionality out to our Clubs! That means that whatever you're playing on will no longer restrict you from joining the Club of your dreams or playing a Championship against your mates on different machines. For us, this is one of the coolest new additions to the game. Now with Clubs, everyone can play one another – and that's a beautiful thing.
2/ Clubs are compatible with Your Stage
Yup – now you can set up an entirely unique championship, with never-been-seen-before tracks to level the playing field! As well as having full access to the career stages, RX and Landrush circuits, you'll be able to run Your Stage events too. You'll also have the delightful 'Randomise' button, which will build you a completely adhoc event – just so you can keep it fresh, unpredictable and a little bit mixed up.
3/ Points are scaled depending on the amount of people participating
Now, this one is something we're really proud of. A lot of users with DiRT Rally's leagues found that the point distribution was unfair; that if thousands of players were in a league, only a handful would get points. So we've taken on board your feedback, and come up with a scaling system for more fairly allocating points. This means that every place counts – and you can have just as thrilling fight for 80th place as you can have for 1st.
Finally, we have our own official Club: the DiRT Cup. Head over to https://www.dirt4game.com/clubs/club/110195/the-dirt-cup to join it, as we'll be keeping a watchful eye on which of our drivers have the most points. And what do points win? PRIZES. And prizes will include your very own DiRT Cup! Which are very exclusive and only available to the coolest of kids.
Of course, Clubs gives us a lot more options to explore when looking at competitive gaming with DiRT – and if you've been following our F1 Esports event, then you can see that's been a focus of ours over the past couple of months across all our games. We're excited to see you get stuck into your DiRT 4 clubs, and excited to see just what we can do with it – to the DiRT Cup and beyond.
The patch notes:
We've not just brought you Clubs with this patch, however – with it, we've brought it a whole host of fixes to bring your DiRT 4 experience bang up to date. Those fixes include:
• Improvements to AI in all disciplines
• Brutal AI difficulty is no longer tied to Fearless preset
• Tuning setups can now be used with lower skill rated teams
• Updated driver support for Thrustmaster devices – this adds support for the T500 (PS4 only)
• Added new support for Thrustmaster TS-XW
• Added new support for Thrustmaster Sparco R383
• Async improvements and updated Sponsors
• Fixed engine audio not playing in broadcast mode from multiplayer lobby
• Refinements and numerous bug fixes for Rallycross audio
• Fixed crash that occurred using Party invites (PS4 only)
• Prevented Welcome Event deadstate (PC only)
• Pro Tour vehicles should not start with damage
• Community Events show time of day when loading
• Rallycross ghosting no longer gets triggered when completing a lap close to another player
• Screen Space Reflections added (PC and PS4 Pro only)
• Improved reflection rendering (PS4 Pro only)
• Lobby countdown reinstated (PC only)
• Disabling external cameras no longer forces camera back to head cam
• Option to reset controls to default added
• Improved stability
In addition to the above, the following changes from PC version 1.06 are now included on console:
• Bug fixes and refinements to improve the quality across all written languages.
• Improved anti-cheat detection for Joyride leaderboards.
• Fearless difficulty modified so it allows all types of manual gears.
• Improved system for storing and re-uploading Community Event times when RaceNet is unavailable.
• Staff contracts now reduce at their expected rate in Pro Tour and Jam Session.
• Pro Tour scoring is now more consistent.
• 'Up and Up' achievement/trophy will now unlock when you get promoted to any tier in Pro Tour.
Crash Fixes
• Improved stability across the game.
General Fixes
• Fixed car wheels and suspension popping in the Service Area.
• Fixed Mailbox specific issues.
• Fixed an issue that caused some Community Events results to become invalidated.
• Fixed an issue with Delta Daily results.
We have set up the usual threads in the usual places, just in case you guys notice anything not as it should be – so please feel free to share your feedback on our forums or on Steam.
Screenshot of the week
This week's screenshot of the week has a delightfully festive feel! Aurora on Steam headed to Sweden for snowy winter wonderland vibes: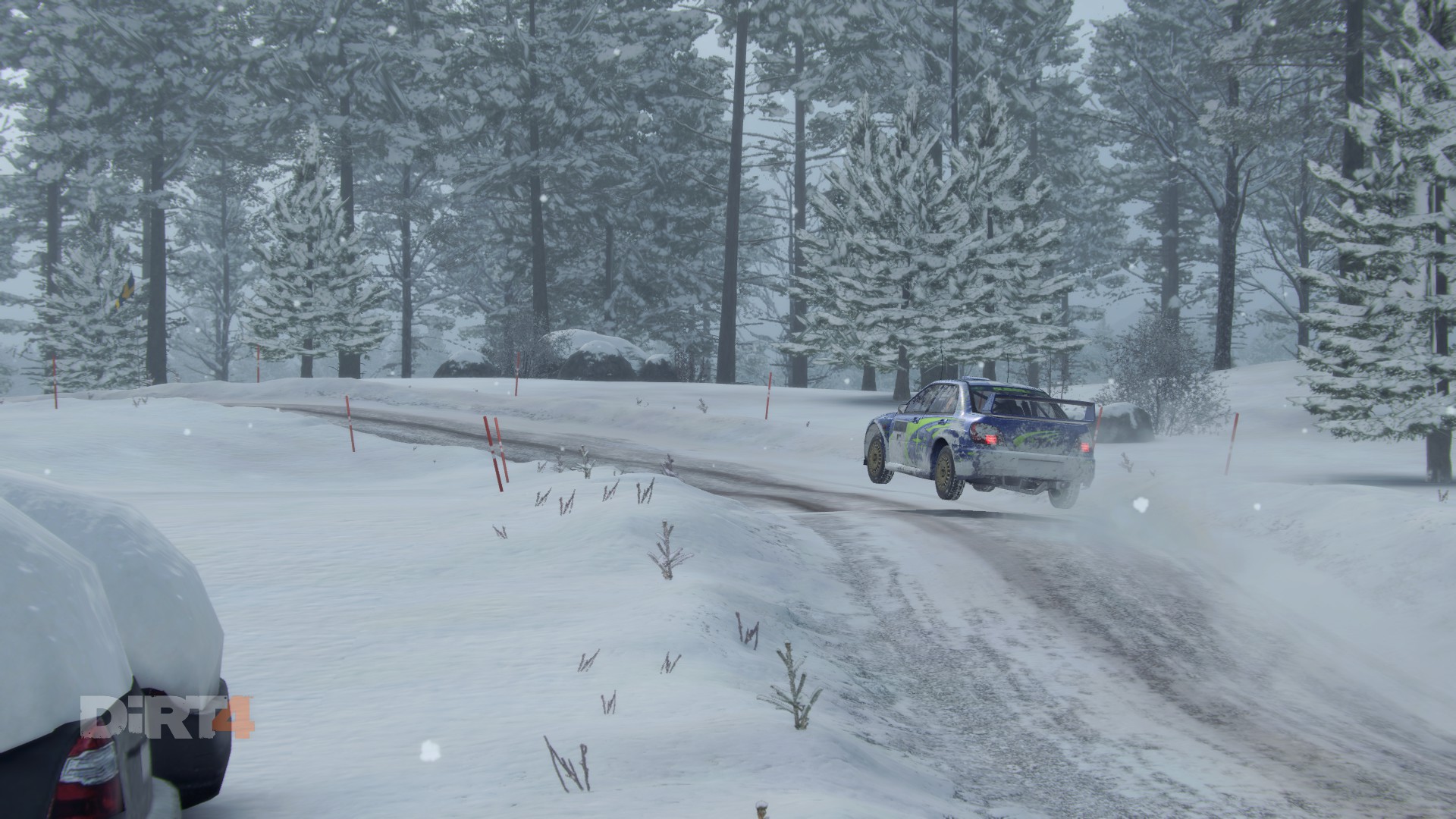 Video of the week
This 4K razz around Tarragona in the 1995 Impreza is what we're here for. Delightful stuff.
The future of DiRT
We'll be back here in the coming weeks for a more candid Road Book on what's going on here at DiRT HQ, and where we go from here. We've seen every comment – good and bad – and we're making sure that whatever happens next has those considerations in mind. For now though, we want you to enjoy Clubs in all of its glory – let us know what you think!